Vicky, one of our Bornean orangutans, has successfully undergone double surgery for the first time in UK history.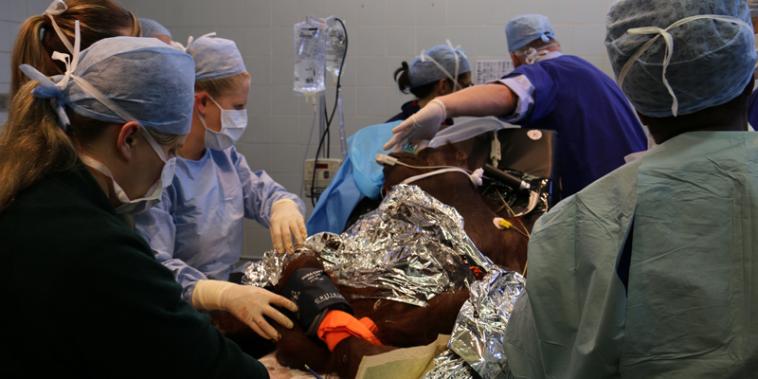 Vicky, who is 30 years old, had two operations performed by leading human and animal medical experts to alleviate severe congestion caused by chronic sinusitis and air sacculitis.
Consultant ENT Surgeon, Jawed Tahery from Nuffield Health, The Grosvenor Hospital in Chester carried out functional endoscopic sinus surgery and zoo vets Karen Archer and Andrew Moore from Oakhill Veterinary Centre in Preston performed marsupialisation of the air sac.
They were joined by anaesthetist, Dr Paul Jamieson and staff nurse, Virginia Kayembe, from Nuffield Health, a team of specialist primate keepers from Blackpool Zoo as well as other human and animal medical specialists.
It is the second time Vicky has undergone surgical treatment for chronic sinusitis and air sacculitis - the first operation was carried out in April 2014 at Chester Zoo where Blackpool Zoo's orangutans were in temporary residence while their new £1million home was being built. However, this is the first time that the two procedures have been carried out at the same time.
Both procedures were successful and Vicky rejoined daughters Summer and Cherie and male of the group Ramon, less than 24 hours after the operation and is now being closely monitored by keepers.
Mr Tahery, who carried out Vicky's first functional endoscopic sinus surgery in 2014, said: "As an ear, nose and throat surgeon I have carried out this procedure many times, but it is very rare to get the opportunity to operate on an animal.
"The anatomy of an orangutan and a human are similar but the orangutan doesn't have frontal and ethmoid sinuses and their bones are much harder.
"The aim of the operation was to restore drainage in the sinuses and increase ventilation of the nasal cavity and I am delighted with the results."
Karen Archer, Veterinary Surgeon at Oakhill Veterinary Centre, who performed Vicky's first air sacculitis surgery in 2014, alongside Andrew Moore, in collaboration with Chester Zoo, said: "The teamwork between top human and animal medical specialists in this case was the key to its success.
"Myself and Andrew drained Vicky's air sac, which is used for vocalisation, and sutured it open to prevent any further build up and congestion.
"We will use the results of this, as well as the samples collected to further the research into this extremely interesting field."
Andrew Moore, who is also a Veterinary Surgeon at Oakhill Veterinary Centre, added: "Air sacculitis is a common condition in orangutans and this type of surgery goes a long way to help alleviate symptoms and limits the risk of potentially life-threatening complications that may occur without such treatment.
"It has been an absolute pleasure to work with a whole host of professionals and field leaders."
Peter Dillingham, Animal Manager at Blackpool Zoo, concluded: "I have been working with Vicky since she was born here at Blackpool Zoo almost 31 years ago and she is very special to everyone here.
"She has had these two conditions for many years and it has been fantastic to work with such esteemed medical experts to make this procedure a reality.
"Less than 24 hours after the surgery she was back in with the rest of the orangutans and is recovering well."
Vicky was born at Blackpool Zoo on June 17th 1984. She is mother to the two other females in the group, Cherie and Summer. She is a very intelligent animal who tends to boss everyone around.
Her favourite food is yogurt and she is best known for flashing visitors her smile, which has been photographed thousands of times!