We're absolutely delighted to announce the birth of a healthy male lion cub!
We'd like you to meet the newest member of our pride - Khari! 
Born in the early hours of Sunday 31st May to first time mum, Rachel, the new arrival will join the pride with Father, Wallace, and aunty, Gillian, who, in line with the social order of a group of lions, the two females will work together to bring up the new arrival and the father will get more involved as the cub matures.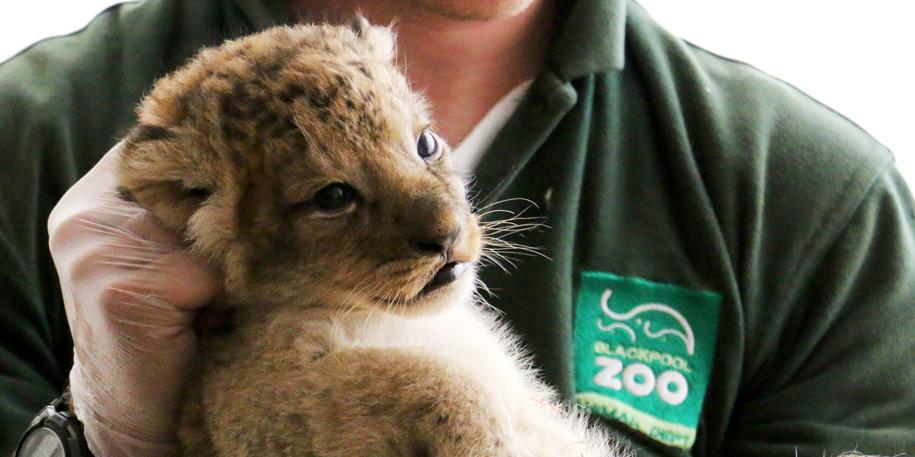 The new arrival has been spending his first few weeks bonding with mum in an off show cubbing den in the Big Cat House. Mother and cub have now been given access to the public dens, but only time will tell when she decides to carry him out to meet his adoring public.
Rachel gave birth to two cubs, however, initial health checks showed that the smaller of the two had a serious developmental problem and the very sad decision was made to euthanize him. Khari is making excellent progress and keepers and the veterinary team are delighted.  
This is the first time we've celebrated the birth of lion cubs since 2009, when Rachel's half sister Gillian, gave birth to female triplets. The cubs, who were called Luna, Kimya and Nikita, left Blackpool in 2011 to begin an exciting life together as the foundation of a brand new pride at Longleat Safari Park. They settled in very well and now have cubs of their own.
Adam Kenyon, Section Head of Mammals, said: "We are absolutely delighted to announce the birth of a healthy lion cub.
"We had prepared the cubbing den because we knew the birth was imminent and our keepers waited with baited breath.
"New babies are always a cause for real celebration as it means the group is content with their surroundings, which is testament to the fantastic job our keepers do.  It's sad to have lost a cub, but these decisions are not taken lightly.
"As we approach our busiest time of the year it will be wonderful to see the new cub exploring his home.
"He already has a distinct personality, taking after his aunty Gillian – very vocal and active!"
Rachel is 13 years old and was born in Blair Drummond Safari Park in Scotland. She came to Blackpool Zoo in 2007. Wallace arrived a year later from Longleat, where he was born in 2006.