It's been an exciting few days here at Blackpool Zoo as we've just welcomed the first male elephant in our 47-year history.
Emmett, a male Asian elephant, completed his successful 200-mile journey from ZSL Whipsnade Zoo in the evening of Friday 25th October.
He spent the weekend settling in to the multimillion-pound Project Elephant Base Camp development ahead of being introduced to Blackpool's herd of females.
The momentous occasion comes after more than five years of incredible work starting with the design and build of the development, which is entirely centred round the needs of the magnificent species.
This was followed by extensive talks with experts from the European Endangered Species Programme (EEP) and specialist keepers from across the UK and beyond to create a multi-generational herd of Asian elephants.
Section Head of Project Elephant, Adam Kenyon, travelled with Emmett from ZSL Whipsnade Zoo and is absolutely delighted to welcome him to Blackpool.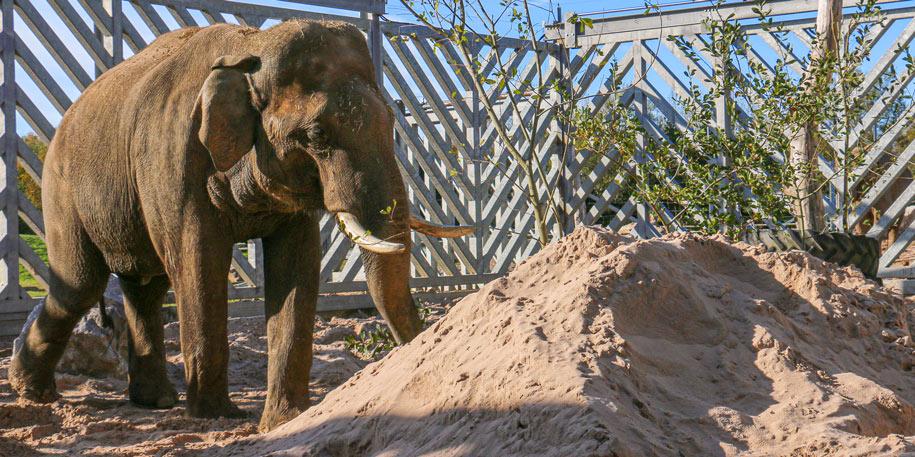 He said: "Today marks the start of a new and exciting chapter in our history as we are now just one of four zoos in the UK to house a breeding herd of Asian elephants. We're working towards a multi-generational group that exhibits natural, wild behaviours and a key component of this is the addition of a male. His past experience as part of a similar herd in which he has sired young means he is perfectly placed to teach the next generation of elephants."
Emmett will now begin introductions to females Kate, Minbu, Noorjahan, Tara and Esha.
Kate was the first animal to arrive at Blackpool in 1972 while the other four packed their trunks and moved to Blackpool from Twycross Zoo in 2018.
Darren Webster, Zoo Director, said: "Emmett is a fundamental part of our plan to secure a future for this magnificent species. We have worked with amazing teams at Twycross and ZSL Whipsnade Zoo as well as experts from the European Endangered Species Programme (EEP) to create a strong herd and our outstanding facilities provide a great environment for them all to thrive."
Project Elephant underpins our ongoing commitment to the endangered Asian Elephant. For more information, please visit www.projectelephant.org.uk.