Our gorilla troop welcomed an adorable new addition on Tuesday 5th September!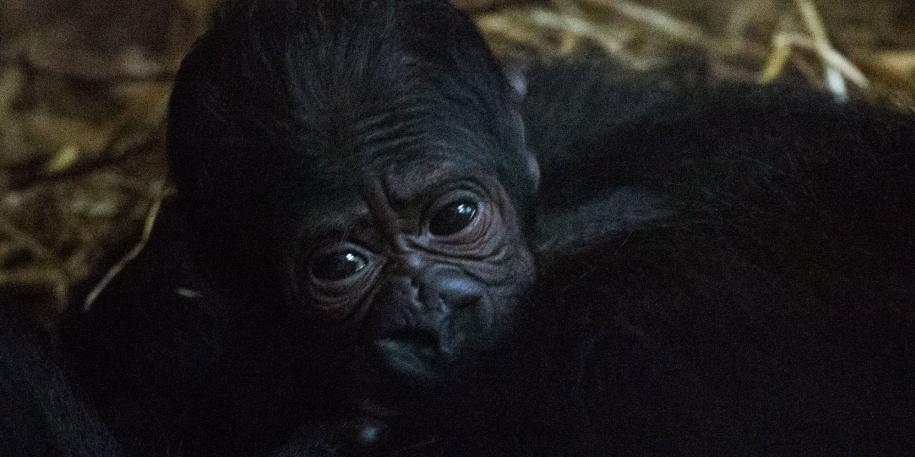 Miliki, who is a 22-year-old critically endangered Western lowland gorilla, gave birth to a tiny baby in the early hours of the morning following a natural and uncomplicated labour.
The beautiful infant, whose sex is yet to be confirmed, has an older sister called Meisie, who is seven, as well as a half brother Moanda, who will be five in November. Resident silverback, 20-year-old Bukavu is father to all three.
Although mother and baby are on public view, the youngster will spend the next few weeks clinging to Miliki's chest until it builds strength and co-ordination.
Peter Dillingham, Animal Manager, said "We are delighted to share the news of the birth of our gorilla. This is Bukavu's third child and Miliki's second so they have already proven that they are great parents.
"We won't find out the sex until the baby starts to move around more, as we are leaving everything to mum. It has been wonderful to watch Meisie and Moanda grow up together and they have both been over to have a look at the new baby a few times! I am sure they will show their new brother or sister the ways of the world when he or she starts to walk at around nine months."
Blackpool Zoo is home to six Western lowland gorillas. Bukavu the silverback is 20 and Miliki, aged 22 is the mother of Meisie, who is seven and the new baby. Njema, who is 24, is Miliki's half-sister and Moanda's mum.
Western lowland gorillas hail from Angola, Cameroon, Central African Republic, Republic of the Congo, Democratic Republic of the Congo, Equatorial Guinea and Gabon. Their critically endangered status is a result of habitat destruction and poaching for the bushmeat trade.