We'll be celebrating our 45th anniversary on Thursday 6th July.
It was in 1972 when 3543 visitors attended the launch in the pouring rain, which saw TV's Johnny Morris ride in front of the Mayor's car on Tower Circus elephant Katsula.
Ticket prices for the zoo were 0.33p for adults and 0.17p for children. Combined workforce wages were £565 per month, with keepers earning £24.50 per week!
Fascinating Facts and Magical Milestones!
Elderly elephant celebrates 45 years of residency and prepares for the big move! One of the first four animals to arrive at the zoo is still there! Kate the Asian elephant is now 49 years old.
She came to the UK in 1971 and was housed in a secret location until the zoo opened. Kate is now under a tailored care programme, which involves eating jelly for additional calcium and weekly pedicures from specialist zoo staff.
Kate is currently preparing to move into a new multi-million pound home. Project Elephant is the zoo's most ambitious and biggest ever single investment and the building, which is one of the UK's largest indoor elephant facilities, is almost complete. Work is also being carried out on the three-acre outdoor area, which will include a pool, water jets, a grassed area and a sand pit.
Going ape for Orang-utans
In 1979, the then Mayoress sat inside an enclosure for tea with the orang-utan, Azimath. Such close contact with zoo animals was banned in 1979, with new health and safety rules introduced year on year since then.
The current orang-utan family includes Vicky, Azimath's daughter, who was born in Blackpool in 1984. It is believed she may have been named after Blackpool Victoria Hospital, which is next door to the zoo. The name was decided after she was examined by one of the hospital's paediatricians when she was a baby after falling and banging her head! 
In July 2014 Vicky, along with daughters Cherie and Summer and male companion Ramon, moved into a new home courtesy of a £1million refurbishment and extension of their existing enclosure.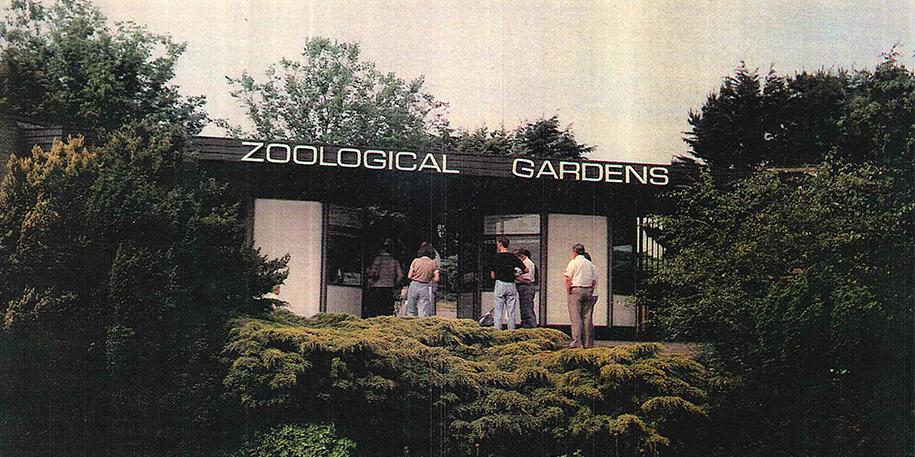 35 stone Centenarian enjoys a party
In February 2017 our oldest resident enjoyed a special party. Darwin the Aldabran tortoise was one of the first animals to arrive at the zoo in 1972 and he has lived through some incredible times.
When he hatched around 1917 there was no National Health Service, man had not been to space, the Humber Bridge hadn't been built, the M6 didn't exist and the Channel Tunnel wasn't even a pipedream. In addition, Queen Elizabeth II, Sir David Attenborough and Nelson Mandela were all yet to be born.
A unique father and son bond between lions took place at the zoo in 2016.
Khari and his dad Wallace were left as the only residents in the Lion House at the zoo after the cub's mother passed away unexpectedly on Christmas Eve 2015 when he was just seven months old.
Since then the two have become inseparable as the only father and cub group in the UK.
In 1981 Nessie the sea lion arrived from Twycross Zoo but escaped through a fence and disappeared into the flamingo lake.  She couldn't be caught, but a door was left open and she went back into the Sea lion House on her own.  The night security man shut the door behind her.
The sea lion pool, which is the biggest in the UK, is still housed next to the Flamingo Lake and is home to 12 Californian sea lions.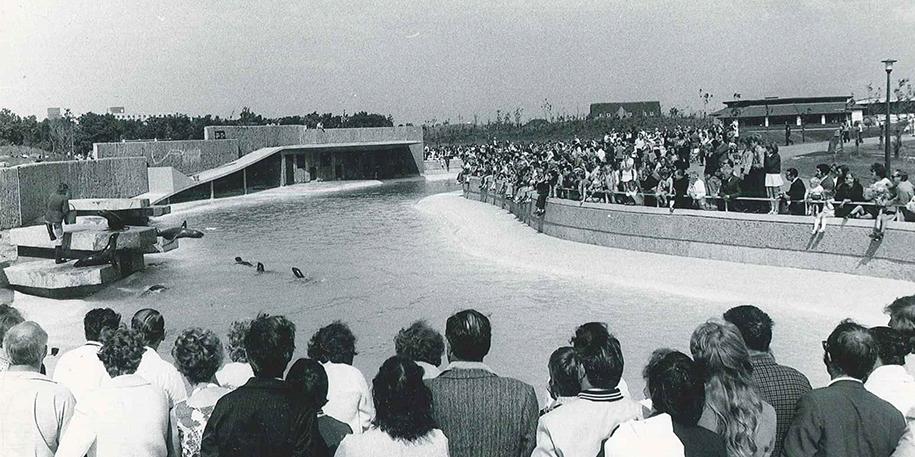 In 1982 Octavius the giraffe was treated by Zoo Vet Mike Fielding for a sore throat!
Mike retired in 2012 after being the Zoo Vet for 40 years.
In 2015 the zoo's oldest female Bornean Orang-utan also became the first orang-utan in UK history to undergo a double operation. Vicky had two operations performed by leading human and animal medical experts to alleviate severe congestion caused by chronic sinusitis and air sacculitis.
Just a year later in 2016 an 18-stone tiger needed root canal treatment, which required more than a simple visit from the vet dentist!
A specialist team of ten was called upon to treat Amur Tiger, Alyona, in a successful two-stage operation to treat and repair her four damaged canine ('fang') teeth.
Blackpool has long been recognised as Britain's favourite seaside resort and is a popular summer holiday hotspot.
In the summer of 1976, which was the hottest on record to that date, keepers kept the Llamas cool by bathing them in the tapir pool.
In the height of current British summers, animals are given sugar-free ice-lollies and the Aardvarks are given a daily covering of sun cream to protect their sensitive pink skin!
Investment brings in visitors
In recent years, millions of pounds have been invested in the zoo and areas such as Orang-utan Outlook, Giraffe Heights, Active Oceans, Wallaby Walkabout, The Children's Farm and Wolf Ridge have been developed to allow visitors to get closer to the animals than ever before.
Management at the zoo base developments on visitor feedback and annual investment and the continual introduction of new species means that there is always something new for visitors to see!
Blackpool Zoo welcomes 15th millionth visitor!
Detailed records have been meticulously preserved in ledgers since the day the zoo opened and as well as visitor numbers they include weather reports and a breakdown of the numbers of adults and children.
We welcomed its 15th millionth visitor on Thursday 13th April 2017. Manchester sisters-in-law, Julie and Sharon Splaine arrived at the zoo with their daughters, Lucy and Maisie to discover that they were number 15 million!
The family party was greeted by Zoo Director, Darren Webster, and showered with celebratory goodies including prosecco and chocolates as well as free admission for the day, Gold Memberships and the chance to feed the giraffes.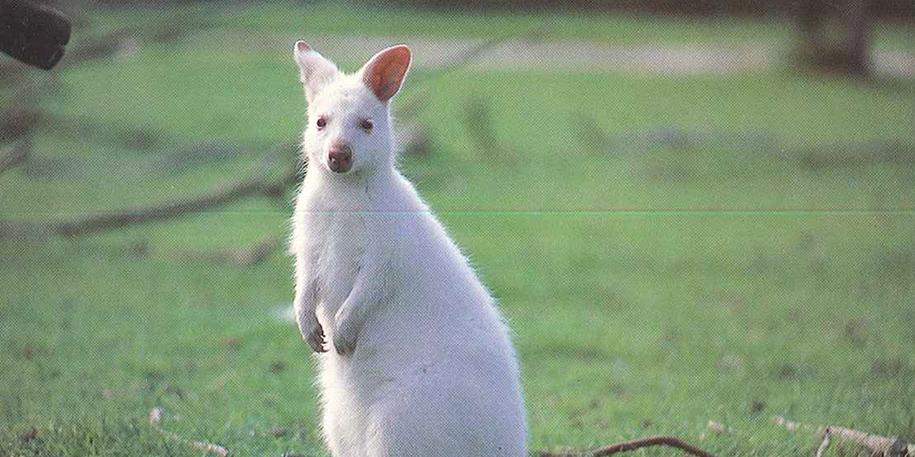 Blackpool Zoo is home to critically endangered species from across the globe, many of which have been successfully bred here throughout the past 40 years. 
Recent significant births include Meisie the critically endangered Western Lowland Gorilla, and Tebogo the Hartmann's Mountain Zebra, who was the only one of his species to be born in the UK since 2002. 
Each year hundreds of babies are born at the zoo under breeding programmes that are managed by the specialist stud book keepers across the UK and Europe.
The zoo has been the setting for numerous television programmes throughout its 40-year history. In 1979 "Life on Earth" filmed potoroos at the zoo for the BBC as researchers couldn't find any suitable to film in their native Australia!
In more recent years, Michaela's Zoo Babies spent five weeks filming adorable new arrivals, Granada Reports produced a four-part feature looking behind the scenes at the zoo, Blue Peter presenter Andy Akinwolere spent two days training as a sea lion keeper and GMTV came along to film an April Fool special!
Blackpool Zoo and the site on which it stands has had a long and varied history. Before the zoo was built, the site was actually an airport. Later it became home to the Royal Lancashire Show before eventually becoming a zoo in 1972. 
Find out more on our History Timeline here.