One of our tiger twins is off to sunnier climes after being matched with a potential mate in Portugal.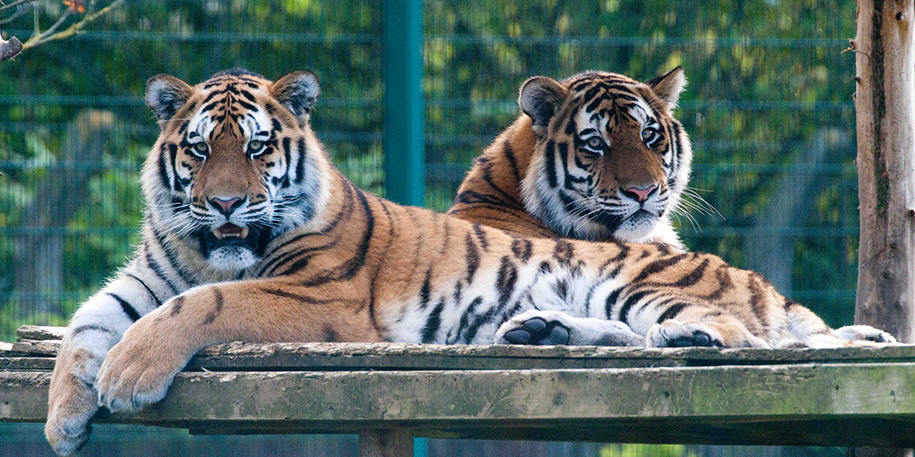 Radzi, who was born at the seaside attraction in 2014, is now almost fully grown and will reach breeding age in the next couple of years.
He has been paired with a three-year-old female called Mila, who lives in Zoo Santo Inacio in Portugal.
His brother, Barney, will also leave the zoo in the near future when a mate has been identified and confirmed by the species coordinator, who manages the European Endangered Species Programme for Amur Tigers.
With approximately 450 individuals left in the wild, and less that 300 in the European Breeding Programme, the two young males will play a vital role in the conservation of Amur Tigers.
They help to raise awareness of their wild cousins and help generate money for projects in their native country.
The boys, and their future offspring, also provide an insurance population for any future reintroductions.
Peter Dillingham, Animal Manager, said: "It has been wonderful to see Barney and Radzi grow from tiny little balls of stripey fur into strapping young males this past year, which is testament to their parents and our excellent team. It has been somewhat of a big cat bonanza here at Blackpool Zoo in the last 18 months as not only did we welcome the twins but also a lion cub, who we have called Khari. I am sure that both Barney and Radzi will go onto become great fathers and we will certainly be following their progress in the years to come."
The twins are the first-born sons of the zoo's resident pair Zambar and Alyona, who have been perfect parents and will hopefully welcome more little ones in the future.
Zambar arrived at Blackpool Zoo in 2010 from Marwell Wildlife Park, where he was born and hand-reared after being rejected by his mother. He was joined in 2012 by Alyona, who arrived from her birthplace Safaripark Beekse Bergen in the Netherlands.
The Amur Tiger can be found in the Russian Far East and NE China. There are approximately 450 individuals left in the wild and they are classified as Endangered. The main threats to the Amur tiger are habitat loss and poaching.
UPDATE: Radzi left Blackpool Zoo in January (slightly later than planned) to join his future mate, three year old Mila, at Zoo Santo Incacio in Portugal.